The Woman in the Blue Cloak
Distinctive . . . Features the veteran team of Capt. Benny Griessel and his partner, Capt. Vaughn Cupido . . . Time is of the essence in this short, swift book. But Mr. Meyer doesn't fail to evoke the subtle and often appealing qualities of his characters and their surroundings. The Woman in the Blue Cloak projects an almost palpable aura.
—Tom Nolan, Wall Street Journal
A murder linked to the distant past.
Benny Griessel is a cop on a mission: he plans to ask Alexa Bernard to marry him. That means he needs to buy an engagement ring – and that means he needs a loan.
So Benny has a lot on his mind when he is called to a top-priority murder case. A woman's body is discovered, naked and washed in bleach, draped on a wall beside a picturesque road above Cape Town. The identity of the victim is a mystery, as is the reason for her killing.
Gradually, Benny and his colleague Vaughn Cupido begin to work out the roots of the story, which reach as far away as England and Holland ... and as far back as the seventeenth century.
The Reviews
"Is it O.K. to call a murder mystery 'lovely'? That's the word that comes to mind for The Woman in the Blue Cloak, a short but quite beautifully told story about two women by the South African author Deon Meyer . . . Quietly moving."
— Marilyn Stasio, New York Times Book Review.
"A priceless work of art is at the heart of Meyer's latest thriller . . . This novella-length tale is a worthy addition to the Benny Griessel series."
— Booklist.
"The problem with The Woman in the Blue Cloak, is that it simply leaves us wanting more. Meyer is one of the best crime writers on the planet. There, I've said it."
— Mike Ripley in Shots Magazine.
"A short-but-packed, tight, chilling police procedural. Add to that the central story line of a murder and a missing piece of art and I'm hooked. Great character development with the two primary Detectives, Bennie and Vaughn, and it kept me guessing throughout the book. Looking forward to the next book from this author."
— Holland Saltsman, The Novel Neighbor (St. Louis, MO).
The Woman in the Blue Cloak
The Big Bicycle Chase Scene: Voortrekker Road in Goodwood. This is what Benny Griessel would have seen while chasing after a suspect on a mountain bike ...
Hardcore Pawn: The pawn shop in Voortrekker Road, Goodwood that inspired the fictitious one in the book where Benny hopes to buy a second-hand engagement ring.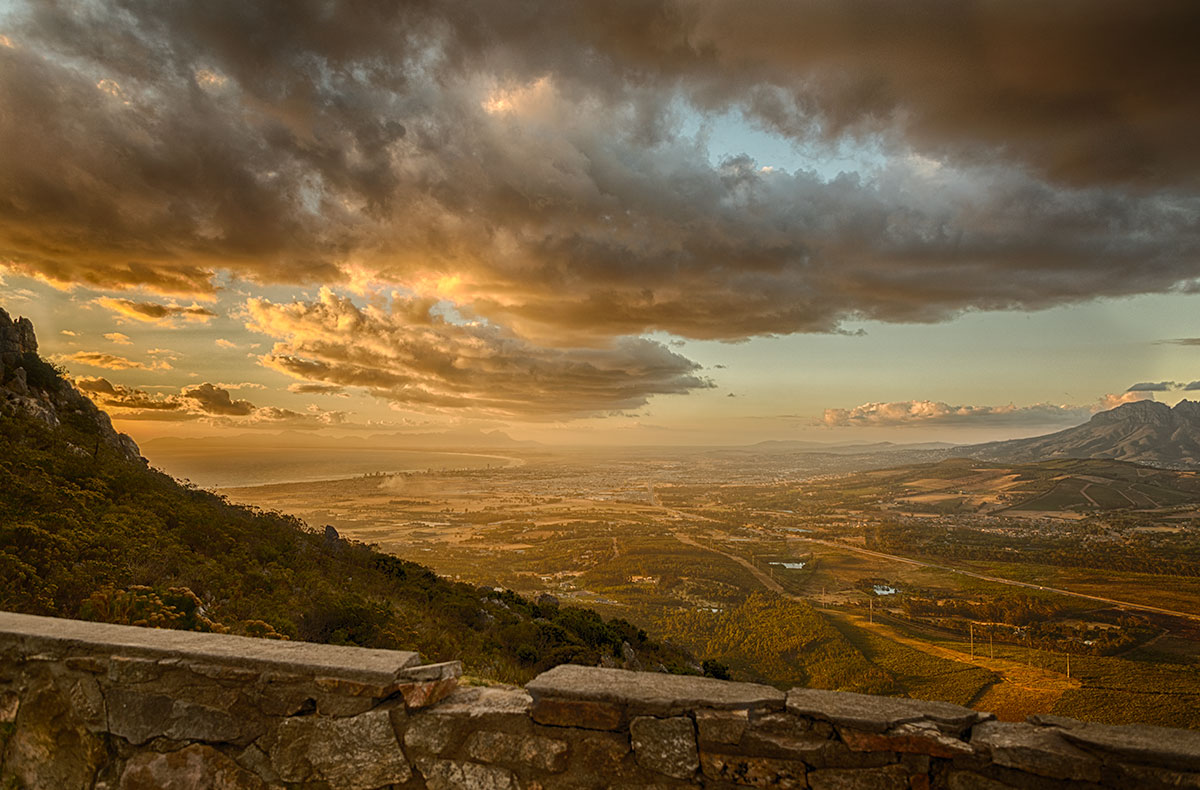 Crime scene with a view: The lookout point on Sir Lowry's Pass, where the bleached body of a Jane Doe is found on the wall in the foreground.
Leopard Country: The Overberg area where the leopard roams in the novella. Cape Nature Conservation trip cameras often photograph the beautiful predators in these mountains.
The Year of the Great Drought: Theewaterskloof dam during the severe Cape drought of 2016/2017. The dam is a major and vital setting in the book.